4 Flute Long Neck Round Nose End Mill
---
SMG224 series
Difficult-to-machine materials round nose end mill
---
Milling Cutters Made of Titanium Alloy, High Temperature Alloy, Carbon Steel, Alloy Steel and Other Difficult-to-Process Materials
Unique tool parameter design solves the problems of vibration, sticking, sharp wear and smooth chip removal.
The blade has high smoothness and improves the smoothness of processed materials.
High precision tolerance control, suitable for ultra-precision machining.
Schematic Diagram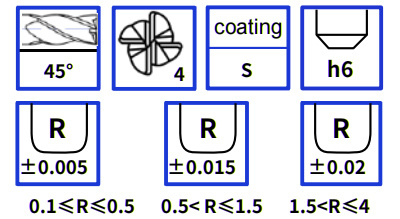 Blade Diameter Tolerance
Blade diameter tolerance

0.2 ≤ D ≤ 3

0~-0.01

3 < D ≤ 12

0~-0.02

12 < D

0~-0.03
Ordering Information
4 Flute Standard Flute Long Round Nose End Mill